Inside: How to get 6 Free Books in Spanish or English for your classroom or home!
Free books in Spanish!



Are you looking for a way to build your classroom library for free?
Over the past many years, I have blogged many times about the
Kelloggs Family Rewards Free book program and now it is back & now called Feeding Reading (No I am not a sponsor of these products, I just like free stuff). 
How do you get free books?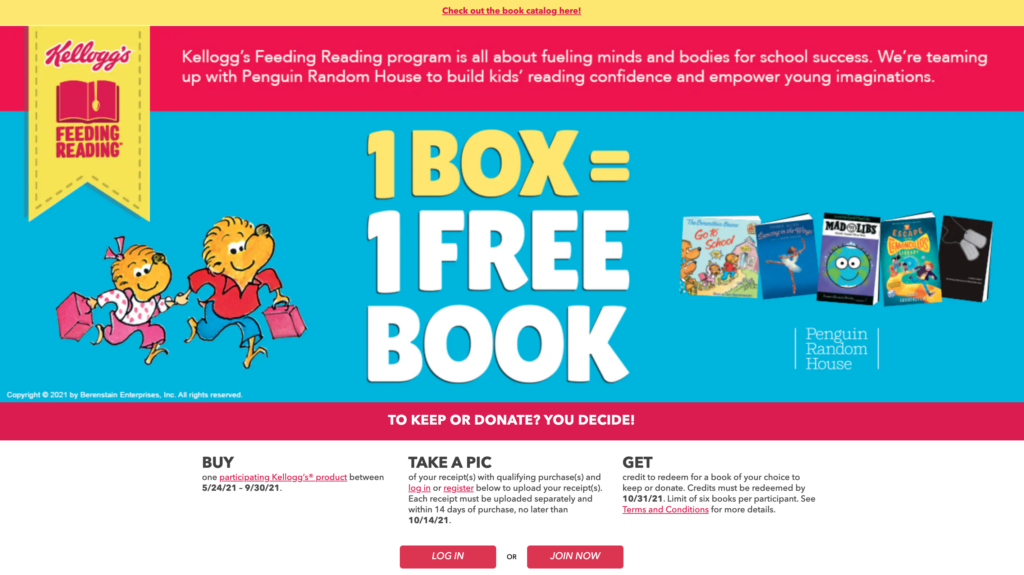 The instructions can be seen above. By uploading a receipt from the Kelloggs' family products listed here, you get one book for each box, up to 6 free books. My family personally eats Frosted Flakes, Fruit Loops, Mini-Wheats, Eggo waffles, and crackers. You can buy them from any store this year but the important thing to note (from a previous year) EACH BOX MUST BE ON A SEPARATE RECEIPT. (If you want to chance it go for it, but I know in the past they did not accept them all together).


So, go to the grocery store with the nicest people that sell name-brand products during a nonbusy time and nicely ask that every single box that you want to earn a free book with being in a different transaction. Or you could do a self check out. (I made the mistake a couple of years ago of taking my two boys who basically destroyed the candy display next to the checkout. (Usually, I go to Aldi & solo).  So thank you again to the sweet teenage checker and the elderly man bagger who ran up 10 transactions and got my boys free dum dum suckers and then took out cart to our car. Fareway people:). 

Why this program?
Why do I care about free books so much? They typically have books in SPANISH for my classroom library and my boys to read at home! (Or 100 titles in English if that is your jam). Here is this year's catalog. 


Tips
Upload each receipt, wait a day or two for them to be approved, and order the books of your choice with FREE SHIPPING TOO. So this means you can get 6 books, or donate them to the school of your choice for Free!
Here was my first shipment of Free books in the summer of 2019! (These same books are not listed this year. It looks like the options are more limited for 2021). 
Not every receipt I uploaded was accepted. I am not sure if I bought an item, not on the list, or failed at uploading. 
Also, their login can be temperamental, especially with Chrome. It worked better for me in Safari. 




For more money-saving ideas, check out all posts with the label $ Saver. What other way do you have to get free or cheap books in your target language? Here is My Amazon Classroom Library List if you are looking for more books. (aff)
Update Here are more up to date posts about my Spanish classroom library


post updated 7.1.2020 & 6.25.2021